credit to the owner
FANACCOUNTS
Tao really had a most good looking breakthrough in history, I believe that his new look will attract a lot more fans for him! During recording and after, I kept on hearing Kfans discussing, "Tao오늘 진짜 짱 멋있어!완전 색시해! (Tao's really jjang handsome today! Totally sexy!)", I was typing this post and a Kfan behind me is on the phone, being agitated saying, "Tao's really mad handsome, all that muscles!"
When it ended and they were leaving, Kris had accidentally trip Chanyeol and he got a smack from Chanyeol on the butt. All of the kids performed well, they passed by only recording twice. Everyone's accessories looks good too, Kris wore a big silver ring on the ring finger of both hands. In the middle of the second recording, Tao had one of his accessory fell, in the end, Kris picked it up for him.
CR EXO-C-TRANS
—–
There's are more than 1500 EXO fans (about 2000)
Kris introduced himself as the tallest member in EXO
Lay's skin is so fair that it looks transparent under the sun. He kept making wolf sign and said "EXO fans zzang" at the end.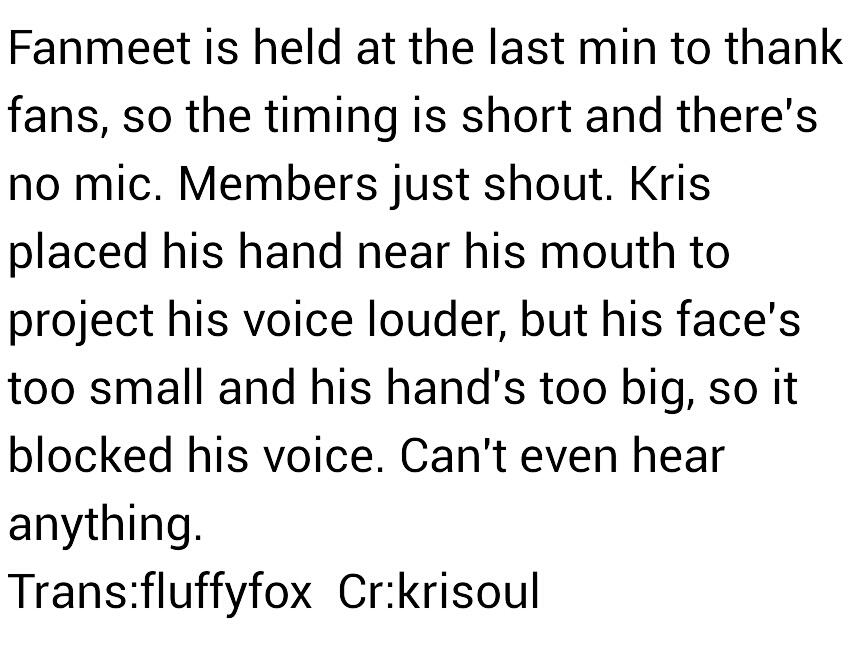 credit to fluffyfox
**
shared by HJS ADOREXONLY
TAKE WITH FULL CREDIT